Hi!
I'm running BitWig on linux and use linvst for converting windows vst .dll files to .so files. This works perfectly with audio vst instruments and effects.
However, when I try vst midi plugins (example Chordz https://www.codefn42.com/chordz/index.html), there is no midi signal out of the plugin. In the device chain (panel) the native midi plugins indicate a light on input and output. When using vst midi plugins only the input lights up, the signal is not passing through the chain.
Is there some setting I'm missing here? Is this Linux (linvst) related?
Here's a screenshot when the plugin is activated (only input lighted)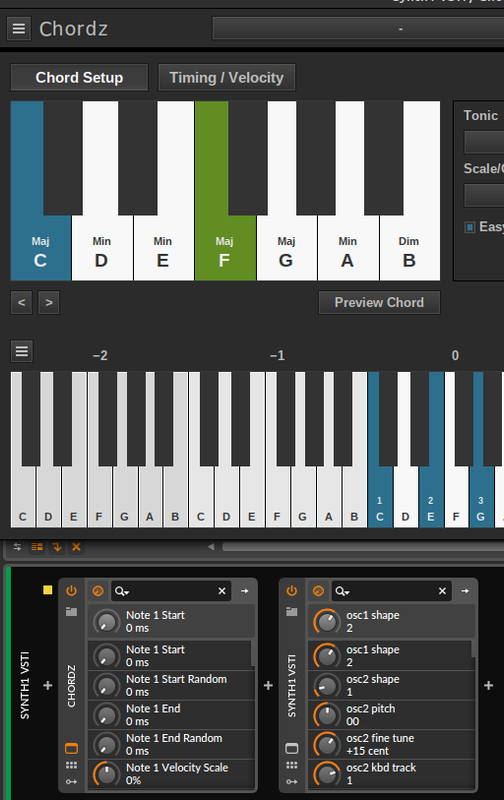 Here's a screenshot when the plugin is deactivated (output + input lighted)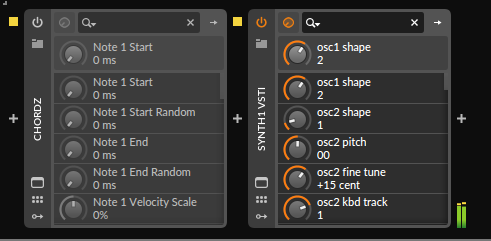 Thanks
Follow this question
By Email:
Once you sign in you will be able to subscribe for any updates here
Markdown Basics
*italic* or __italic__
**bold** or __bold__
link:[text](http://url.com/ "title")
image?![alt text](/path/img.jpg "title")
numbered list: 1. Foo 2. Bar
to add a line break simply add two spaces to where you would like the new line to be.
basic HTML tags are also supported
Tags:
Asked: Oct 09 at 22:35
Seen: 29 times
Last updated: Oct 09 at 22:43
Related questions