asked Oct 30 '15 at 23:16 by Gruff (56)
Does anyone else get a blank line/clip/region on the first attempt at bouncing anything? 80% of the time when I'm either exporting audio or wanting to bounce in place I get a blank slot and then when I undo + retry it usually works? Its like the first go primes bigwig to work the 2nd time round.. Is there something glaringly obvious i'm not doing/got switched off?
In this instance i'm using Serum VST but it's not exclusive to this scenario.. Attempt one -
Result -
Attempt 2 -

Result -
Audio export results in this file every time -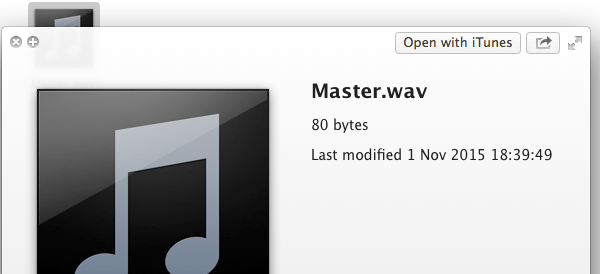 Device chain is -
And routing is -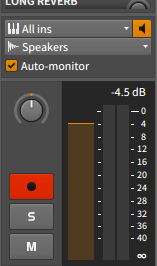 I get this result from most attempts to bounce be it midi, raw audio, clips, session view etc so its not particular to that setup. I can bounce through various different routings (speakers, master, buses etc) successfully but this is usually only the 2nd or 3rd attempt. Exporting audio does the same with a 80 byte file every time until it then randomly works. I've experienced this issue since version 1.1 but its got more common recently.
answered Nov 01 '15 at 20:21 by Gruff (56)
—
I have a similar issue, 100% of the time i get the audio but no waveforms. Yosemite 10.10.5 Bitwig 1.3
answered Nov 04 '15 at 10:23 by Antuan (693)
—
Seems this bug is on the way to be squashed; read the bug fix list of the BWS 1.3.1 Release Candidate 3 here:
http://www.kvraudio.com/forum/viewtopic.php?f=259&t=449896
Remember this still a development version; you may want to wait a few weeks more to install a final 1.3.1 release and enjoy bouncing again.
answered Nov 05 '15 at 08:50 by pakunoda (966)
Follow this question
By Email:
Once you sign in you will be able to subscribe for any updates here
Markdown Basics
*italic* or __italic__
**bold** or __bold__
link:[text](http://url.com/ "title")
image?![alt text](/path/img.jpg "title")
numbered list: 1. Foo 2. Bar
to add a line break simply add two spaces to where you would like the new line to be.
basic HTML tags are also supported
Tags:
Asked: Oct 30 '15 at 23:16
Seen: 3,091 times
Last updated: Nov 20 '15 at 23:03
Related questions